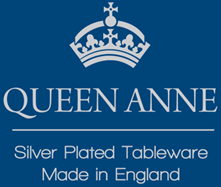 Tarnish Resistant, Never Needs Polishing! Queen Anne was established 1919 in Birmingham, England and has since been influenced by the expertise and craftsmanship of fine English Silversmiths.
Their skills and designs have been passed down for generations providing the essence of Queen Anne's traditional silverware. Queen Anne continues to produce fine quality silver plated tableware at an affordable price and combined with their special tarnish resistant coating the finished article is easy to look after and requires no polishing.
Queen Anne is proud to be the only major silver-plating company whose products are made in England.